I came home from work today to an amazing present! (Well not so much a present cause I paid for it, but I guess a present to myself!) Anyway, look how pretty!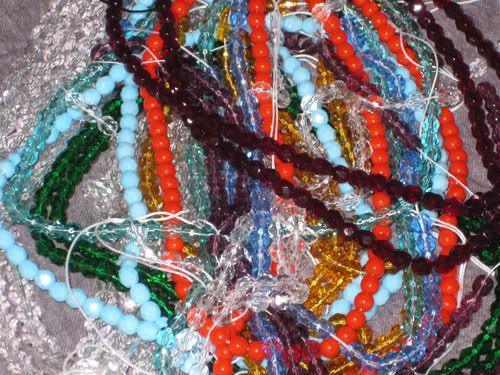 So many colors!
Are you wondering just what I'm making with them?
She gives great inspiration. ;-) I've already done a practice run and I love the way it turned out. I matched the beads pretty damn well, there was really only one color I couldn't match really well. Otherwise they are awesome! I can't wait to start working away. :)
Anyways, I'm obviously going to be selling them on the site and I'm thinking this will be my first trial run on donating to charity. I'm going to try donating to the charity of the purchasers choice and see how that works. I really just think that is such an interesting idea. If it is too difficult, then perhaps I will decide upon 5 or 6 different charities to highlight. I've already decided to have a default charity that I pick (probably one a month) and if the buyer doesn't have a certain charity they want to send the money to, the money will go to the default charity.
I've decided upon donating 40% of the sale to charity. I went back and forth on how much, but I think it's a great percent to start out with. That way a pretty good chunk of the money will actually go to charity! :)
I'm going to sell this necklace at $40.00 for now and see how it sells. That means that 16 dollars will go to the charity of the buyer's choice. :) I have enough beads to make around 10 necklaces, so if you like them and are 100% sure you'd like to buy one, let me know here. That way, you don't have to sign up for an Etsy account if you don't want one and you can also pay by check, considering I only accept Paypal over there. Thought I would just extend the offer over here in case anyone (besides Mandz :P) is interested. So that leaves 9 necklaces up for grabs at this point!
And for future reference, if there is ever anything over at my Etsy shop that you would like to purchase and you don't feel like buying if off of the site, let me know and I'll remove it from there and we can just do a normal sale. ;-)
I've also started a Twitter for my Etsy shop and you can find that here:
colourmejaded design's twitter
. I've already added a few of you over there, but for anyone else that I couldn't find, please add me to stay informed about updates!
Hope everyone has a wonderful Friday!! ::kisses::